Paint Work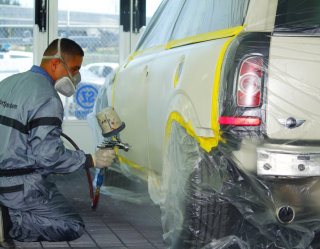 This stage of the repair process includes all the techniques necessary to restore the paint surface of the vehicle, for both sheet metal and plastic parts, including:
Cut-in parts
Surface preparation
Color matching
Color and Clear Coat
Rub and Polish
Color matching the paint on your vehicle is both an art and an exacting science. AW Collision applies paint to the bare shell of the vehicle which is cured at temperatures up to 180-degrees–any hotter and damage will be done to the car's mechanical, electrical and interior systems. The colors used by auto manufacturers may vary widely on the same models painted with the same color. Variations in shading and coloration depend on whether your car was painted at the beginning or end of an assembly line run of paint.
This is further complicated by the fact that most new cars are also painted with a "two-coat" or "tri-coat" paint process, where mica, pearl, or metallic materials are applied sequentially in the factory finish. These finishes often vary in appearance based on the angle from which they are viewed. For example, a green metallic paint can appear "teal colored" when looking at a straight or flat surface such as a hood, but nearly "black" when looking at a rounded surface such as a fender.
All of these factors make paint mixing, tinting, and blending in the collision repair process even more critical. To properly repair a minor dent of several square inches, an entire panel may need to be painted and the adjacent panels may need to be blended in order to achieve a precise color match. AW Collision specializes in using computer-controlled sensing devices that provide the refinish technician with a precise formula to match the paint color on a vehicle.